Dios es marica
1973-2002
Nahum Zenil / Ocaña / Sergio Zevallos /
Yeguas del Apocalipsis (Organised by Miguel A. López)
Dios es marica [God is Queer] brings together four artists or collectives whose work is based on the theatricalisation of gender, transvestism and a parody of images associated with religion and with cultural and political history. The work of Sergio Zevallos (Grupo Chaclacayo) in Peru, Nahum Zenil in Mexico, the duo Yeguas del Apocalipsis (Pedro Lemebel and Francisco Casas) in Chile and Ocaña in Catalonia emerged from the end of the 1970s to the end of the 1980s in contexts that were then undergoing intense economic crises, social violence, dictatorships and/or processes of democratic transition. Their practices employ painting, photography and performance in public spaces to appropriate, subvert and trade codes handed down from the Catholic tradition, responding
to historical processes of exclusion and marginalisation of non-normative bodies, desires and sexualities peddled by national, religious and military discourses.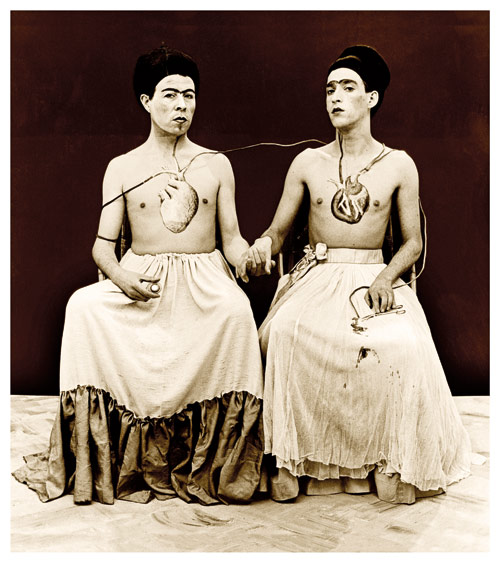 Sergio Zevallos, at the time a member of the Grupo Chaclacayo (1982-1994), deployed a sarcastic transvestism using waste material and precarious elements in actions performed in marginal spaces that pointed at the structural bases of violence. Zevallos made his images in Lima, against the backdrop of the armed conflict between the Maoist Shining Path and the military forces of the Peruvian state. His photographs recorded a ritual choreography of two androgynous bodies in some of the city's abandoned spaces, mining Christian iconography, popular culture and porn magazines through mise en scène, acting out episodes of torture, crucifixion and death, as well as pleasure, eroticism and ecstasy.
The Yeguas del Apocalipsis started working together towards the end of Augusto Pinochet's military dictatorship in Chile. One of their most striking actions is Casa Particular [Private House] (1990), held in a brothel in Calle San Camilo, in Santiago de Chile, where they re-enacted the Last Supper. In this action, one of the prostitutes, sitting at the centre of the table, plays the double role of Christ and Pinochet, saying: 'This is the last supper of San Camilo, the last supper of this government.' After offering bread and wine, she continues: 'this is my body, this is my blood', uncovering the hidden bonds between military authoritarianism and religious discourses.
In the final years of Franco's dictatorship in Spain, Ocaña made a series of transvestite appearances in the streets of Barcelona, staging spontaneous happenings and colourful parades. At the same time he recreated processions with papier-mâché Virgins he had made, disrupting the hegemonic codes of gender normativity and the control of public space dictated by the National-Catholic discourse. Ocaña inverts the conservative quality of the religious symbolic universe and transforms it into a joyful carnival of libertarian sexualities.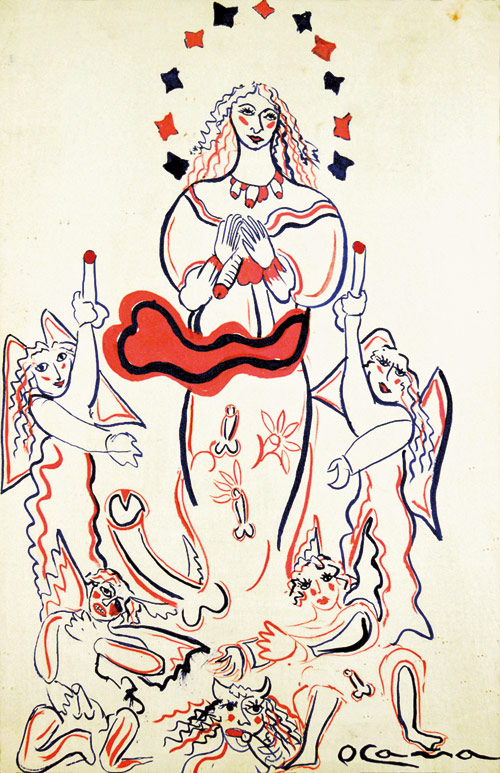 In the late 1970s, Nahum Zenil made a series of homoerotic images that re-signified local popular iconography, national religious devotion and the image of the Mexican indigenous population. Zenil multiplied himself through self-portraits, taking on the roles of the Virgin, a bride, an apostle or a martyr. The artist imagines a playful, humoristic and utopian space where religious fervour is capable of accommodating open forms of understanding sexuality, pleasure and desire. The appropriation of Christian iconography and the language of liturgy transmute the vocabulary of subjugation into a ritual form of affirmation and resistance. – MAL