2014
Graziela Kunsch and Lilian L'Abbate Kelian
The magazine Urbânia originated from a group project by Núcleo Performático Subterrânea, a collective in São Paulo that staged radical street performances in the early 2000s. From the third issue on, the magazine has been run by Graziela Kunsch. With each issue, Urbânia picks a specific focus of investigation, experimenting with different editorial strategies and assuming a new form.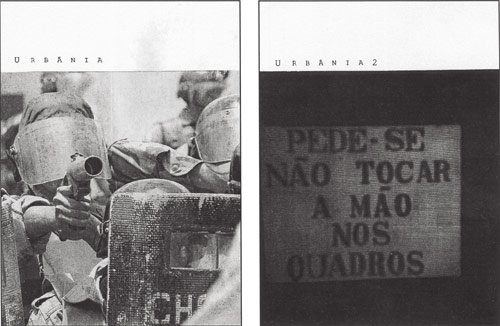 The fifth issue of Urbânia is being constructed in the context of the 31st Bienal and features historian and educator Lilian L'Abbate Kelian as co-editor. Urbânia 5 includes texts and experiments surrounding educational projects that aim to reinvent schools, or counter-schools, practices of popular education, initiatives for decolonisation, recognition and spreading African-Brazilian or Native Brazilian history and culture, pieces by artists who possess a pedagogical (or even an 'anti-pedagogical') inclination; as well as educational actions in art exhibitions, among other themes.
The editors propose an anti-hegemonic, critical and emancipatory approach to education, and the form of the magazine and its distribution aims to reflect this intention. The graphic design was created in collaboration with artist and designer Vitor Cesar.
Parallel to the development of the magazine, L'Abbate Kelian and Kunsch are coordinating a course in 'Self-training for Educators' along with a group of educators from the Bienal and members of the permanent team. The course anticipates experimental activities that will be developed with the public, and is structured according to five thematic axes: 1) Accumulated History (experiments in democratic education); 2) Movement (the limits and possibilities of public policies); 3) Utopia (an open architecture of spaces and curricula); 4) Body (presence, performance and an ethics of endearment); and 5) Vocabulary (new practices require new terminology).
The release of Urbânia 5 will take place during the last weeks of the 31st Bienal, allowing it to attempt an evaluation of the course, an observation of the activities of Bienal's educational project, and a juxtaposition of other projects in the exhibition which relate to the interest of the editorial project such as those by Pedro G. Romero, Imogen Stidworthy and Mujeres Creando. – GK/LLK