2014
Danica Dakić in collaboration with Roger Avanzi, the performers of the Unidos de Vila Maria Samba School and the photographer Egbert Trogemann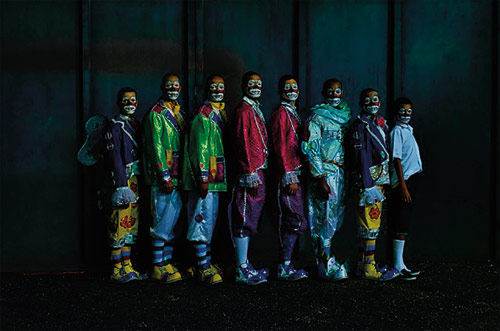 Danica Dakić often starts to work with an encounter or an image that she follows as a path. She then keeps the process open, allowing participants to improvise, directing them in a subtle way. A migrant herself, she has created theatrical dispositives to work in collaboration with non-actors, as refugees and nomads. Her filmic narrative is then built in the editing room. From the film set to the editing room, displacement and transformation are central to her work.
When Dakić met Roger Avanzi, the last representative of a five-generations- old circus family, it was clear to her that he would be the character of her next work. In Vila Maria, Dakić films him putting on his makeup and turning into Picolino the clown, and by doing so she confronts the viewer with a concrete situation of transformation. Nerino Avanzi, founder of the Circus Nerino (1913-1964), created Picolino, and his son, Roger, inherited the character. Picolino is inseparable from Roger's body, although it exists beyond him.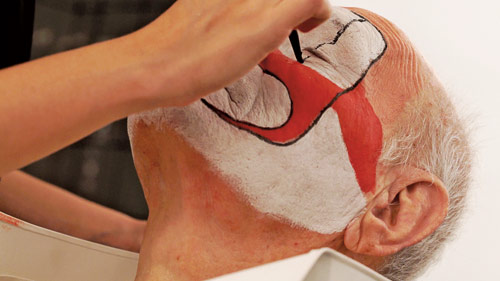 Picolino was also part of Vila Maria Samba School's 2014 carnival parade. Dakić filmed Roger in the Circus Museum that he helped to create in São Paulo to preserve Picolino's memory and the memory of Brazilian circus. In another time and space, in the samba school's warehouse, eight Picolinos, of all heights and ages, stand still in front of Dakić's camera. They give new incarnations to the character and, in exchange, Picolino gives them a new mask and new roles to play within a poetic call for transformation. – BS/GE